WINTER 2014 NEWSLETTER

Welcome to the Winter 2014 MartinMinett newsletter for clients and industry contacts.

This edition covers:

1) Industry Issues
CALCULATING LOSS OF GROSS PROFIT DECLARED VALUES INCLUDING GROWTH/ TREND; CONSIDERING INDEMNITY PERIODS ABOVE 12 MONTHS – reflecting extended period of Risk – Getting this Correct becomes very important at Claim Time.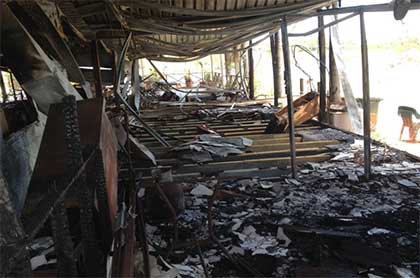 In this issue we look at the importance of calculating and declaring the correct Sum Insured for Loss of Gross Profit (GP) and the importance of projecting forward to the last day the Insured could be impacted under the Indemnity Period. This is always important but especially so when the Insured has a business that needs an Indemnity Period of more than 12 months. Unfortunately this is an area where Insureds (and their Brokers) have been caught out (i.e. been under-insured) because the Insurable Gross Profit (GP) calculations have not correctly factored in the time-frame and growth.
In our experience, almost all businesses that own the premises from which they operate or have a complex business to reinstate, should have an Indemnity Period of greater than 12 months recommended to them. The most basic reason for this view is the reinstatement time required to rebuild a commercial building if a total loss occurs (or a major partial loss) - let alone the time it then takes to return to normal trading following a significant interruption to business.
Below is a simple example illustrating how business growth over the indemnity period needs to be factored into Business Interruption (BI) declared value calculation of Insurable Gross Profit (GP).

Insurable Gross Profit Declared Values
Example Company - Provides Budget Annual Insurable GP for Policy Period
Important - Factor in Growth of Business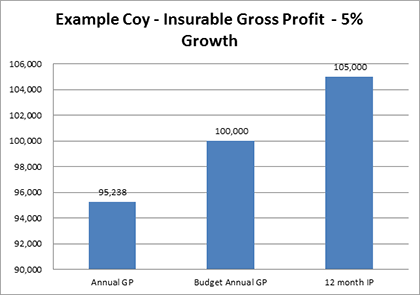 | | | | |
| --- | --- | --- | --- |
| EXAMPLE COMPNAY | GROWTH | | |
| Annual GP | 95,238 | | Annual Insurable GP - last available result |
| Budget Annual GP | 100,000 | | Insured Provides Budget Annual Insurable GP for Policy Period |
| 12 month IP or < IP | 105,000 | | Factor in Growth as loss could occur on last day of Policy Period |
| > 12 month IP | | | ISR Mk IV - the sum produced by applying the Rate of Gross Profit to the "Annual Turnover (or its proportionately increased multiple thereof, where the Indemnity Period exceeds 12 months)…." |
When the Insured has a Business Insurance loss and they are hoping they have the right cover – don't be caught out (i.e. with under-insurance) because the Insurable Gross Profit (GP) calculations have not been done correctly especially when the Insured has an extended IP.

2) MartinMinett – A Brief Look at a Claims Topic
What to Consider when setting an ISR Section 1 Limit of Liability (LOL) - How to Minimise issues with a "property damage" claim.
It is a given, that clients want an overall Limit of Liability which will fully protect them (the Insured). To determine that amount, as a minimum for Section 1 (Property Damage), they should take into account the following:
Include total Declared Assets at their largest risk location [Section 1].


Add to that figure the major Sub-Limits of Removal of Debris, Extra Cost of Reinstatement and Additional Extra Cost Reinstatement, and any other major additional sub-limits included in their policy coverage schedule that are payable over and above the Declared Values.


ADD an allowance for escalation costs e.g. reasonable cost of inflation and increase in replacement or reinstatement costs over a reasonable rebuild period and/or the indemnity period – remembering that a loss could occur on the last day of the Period of Insurance.

Many brokers add 10% - 20% (as a rule of thumb) for this final Section 1 LOL allowance to ensure their client is fully insured in the event of a major loss. .
N.B. Also ensure that any Accidental Damage (AD) Sub-limit is adequate. Insureds (and their Brokers) have been caught out (i.e. been under-insured) when this has not been properly addressed (Refer Strategic Property Holdings No.3 Pty Ltd v Austbrokers RWA Pty Ltd [2012] NSWSC 1570)
Obviously the Section 2 (Consequential Loss) values also need to be added in to ensure that the overall Limit of Liability (LOL) will fully protect the Insured. Determining Section 2 (Consequential Loss) values should be calculated by a Broker expert in that area or with the assistance of a BI Expert.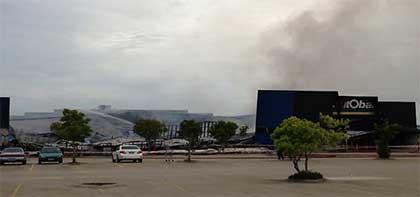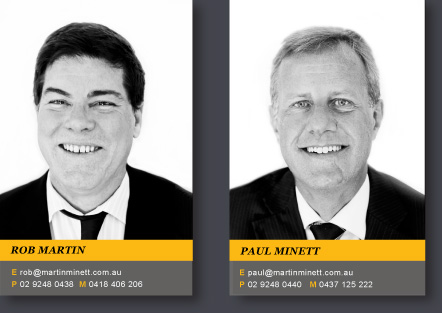 Rob Martin has gained a wide range of experience over 20 years in insurance accounting and insurance operations within the industry. In that time, Rob has worked as an external auditor of Insurance companies, in internal management for Insurance companies and was a Partner and Director for 5 years at MSM Loss Management specialising in business interruption insurance. In particular, Rob has experience in preparing claims with technical, legal and detailed insurance and accounting issues as well as the ability to negotiate favourable outcomes for business claimants.
Paul Minett has dealt with Insurance issues for companies both in internal management and as an external consultant over the last 25 years. Firstly, as a Financial Controller and then in the last 14 years as an Economic Loss Expert, Paul has used both his technical and modelling skills on detailed projects for clients to ensure they achieved the best outcome. For 12 years, Paul was with MSM Loss Management and for 5 years was a Partner and Director. Paul has specialist experience in preparing and settling claims in all business sectors and in particular for retail, food and beverage, logistics and mining and metal processing industries.
Over the last decade, Rob and Paul have managed the preparation, lodgement and the resolution of insurance claims for a diverse range of clients ranging from multinational companies through to middle market businesses. They have also liaised with senior counsel and solicitors and compiled expert reports on quantum of loss claims for mediation and litigation matters.


4) MartinMinett Extended Special Offer
FREE BUS PACK AND ISR CLAIMS CONSULTATION
Following the success of this offer in 2013, MartinMinett Claims Prep have decided to re-introduce this offer for the remainder of 2014 to all brokers and their business clients of a FREE telephone consultation on any ISR or Bus Pack material damage and business interruption claim.
If a business client has a claim you can call us for up to 30 minutes FREE advice on any claim query on entitlements under an ISR or Bus Pack insurance policy.
Please feel free to call Rob on 02 9248 0438 or Paul on 02 9248 0440

5) MartinMinett Claims Services
OUR SERVICES - Claims Preparation

MartinMinett Claims Prep assists brokers and their business clients to prepare material damage and business interruption claims. Its principals, Rob Martin and Paul Minett, have assisted many clients to ensure they receive the full claim entitlement from their insurance policy. MartinMinett Claims Prep helps to minimise disruption and works to save time and money for the client and the broker.
Generally claim preparation costs are covered under the business client's policy and therefore at no cost to your client they receive a financial and service benefit. In addition the broker saves time and cost while still keeping control of the claim process by using the services of MartinMinett Claims Prep. A real win/win/win scenario.


CONTACT INFORMATION


LEVEL 4, 99 BATHURST STREET, SYDNEY NSW 2000
T+ 61 2 9248 0438 | F + 61 2 9248 0433 M 0418 406 206
W WWW.MARTINMINETT.COM.AU
PO BOX Q1470, QVB NSW 1230